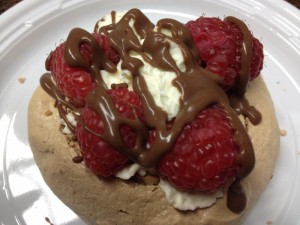 Pavlova is a favorite dessert of Northern Ireland, with fresh fruit and whipped cream used to decorate a meringue base.  It was first created in Australia in the early 1900s to commemorate a visit by the famous Russian ballet dancer, Anna Pavlova.  The popularity of this light, yet crisp, versatile dessert spread quickly throughout the United Kingdom and soon became an Irish favorite.
This delicious recipe was shared in our March Ladies Night Out event with guest Irish cookbook author, Judith McLoughlin.  Judith and her husband, Gary, come from Northern Ireland bringing their rich Irish heritage and hospitality to Georgia.  Judith is the author of the beautiful cookbook, The Shamrock and Peach, where she melds her Irish traditions with Southern favorites.
In August, Brad and I had the pleasure of traveling to Ireland with Judith on one of her Shamrock and Peach Irish tours. (For tour information go to www.shamrockandpeach.com.)  We experienced the popularity of pavlova in a variety of ways.  It was sold in bake shops from giant mounds to small nest-sized mounds.  It was used either as a base for whipped cream and fresh fruit for a delicious, delicate dessert or crumbled as a topping to add texture and crunch.  They are so easy to make and store beautifully, so I have no doubt Pavlova will soon become a family favorite.
To order – The Shamrock and Peach cookbook – item # 09283 – $29.95
Chocolate Toffee Pavlova
*    4 egg whites (at room temperature)
*    Pinch of salt
*    1 cup plus 2 Tbsp powdered honey granules
*    1 tsp arrowroot starch
*    2 Tbsp quality cocoa powder
*    2 tsp chocolate infused balsamic vinegar (or quality balsamic)*
*    ½ cup heavy whipping cream (1 cup whipped)
*    2 tsp powdered honey granules
*    1/2 cup Chocolate Toffee (smashed in pieces)
Preheat oven to 300 degrees F.  Line and grease a baking sheet with parchment wax paper.
In electric mixer beat egg whites and salt until they are white and foamy.  Slowly incorporate the powdered honey granules one teaspoon at a time.   Blend in the arrowroot, balsamic vinegar and cocoa powder.  Continue whipping to form a stiff meringue.
Spread meringue in a circular fashion on lined baking sheet, building up the edges a little higher than the middle.
Set meringue in the preheated oven and then immediately turn the temperature down to 250 degrees and bake for 1 hour.  Turn the oven off and allow the meringue to dry out as the oven cools.
Decorate the pavlova by whipping the fresh cream and sugar until soft peaks appear.
Sprinkle over pieces of chocolate toffee.
Chocolate Infused Balsamic Vinegar
*    2 cups good quality balsamic vinegar
*    1 cup Healthy Addictions Chocolate Syrup (made with raw cacao and agave nectar)
In a small saucepan over low-medium heat, reduce the vinegar by half (from 2 cups to 1 cup).  This will take about 20 minutes, stirring often.  The vinegar will thicken and coat its pan.  Set aside to cool.  If you start with a better balsamic vinegar, you may skip this step and simply use 1 cup of balsamic straight from the bottle.
Meanwhile place the jar of chocolate syrup in a pot of hot water and let sit to warm the syrup so it is pourable.
Once the vinegar is cool, stir in the warmed chocolate syrup.  Mix well and bottle.
Makes 2 cups
Hints:
This recipe can be made into one huge mound and baked and sliced, but for ease of serving, I prefer small individual mounds.  I used a standard, muffin/ice cream scoop to scoop the meringue onto a baking sheet, then used the back side of the scoop to swirl each mound into a "nest" forming a slight "well" in the center.
When cooking it is best to cook low and slow, then turn the oven off and allow the meringues to cool completely in the oven.  This will give the crispiest final texture.  For the small mounds reduce cooking time to 40 minutes.    It is recommended to line your baking pan with baking paper as the pavlovas tend to stick to the pan.
In class we served the Pavlova with crumbled Butter Toffee that I made ahead of time but I usually just top with whipped cream, fresh berries and a drizzle of chocolate syrup or ganache.
Chocolate syrup item # 09194 was used for the balsamic vinegar infusion and topping.    It is a raw cacao syrup sweetened only with agave nectar.