Looking for the perfect gift for your special Dad?
Cameron's Stovetop Smoker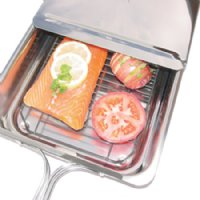 Constructed of heavy-gauge stainless steel, this smoker is 11×15 inches and comes complete with drip pan and slide on lid so your food gets smoked but your kitchen doesn't. Let's you cook with the wonderful flavor of real wood chips right on your stove top – gas or electric with extendable handles for grill or campfire.
No need to crank up the big outdoor smoker. Enjoy fish, wings, chicken, vegetables and even cheese. Cook as much or as little as you need for a meal.
Father's Day Special
Online, use discount code "FD2017" when you have the smoker and a jar of chips in your cart. If you're in our retail store – just ask!