Plus, one of our favorite drop biscuit recipes.
Is there anything yummier than a freshly baked biscuit? If you find something, let us know. These versatile creations run the gamut from savory to sweet and are a welcome addition to pretty much any meal. Want to be a better biscuit baker? Batter up!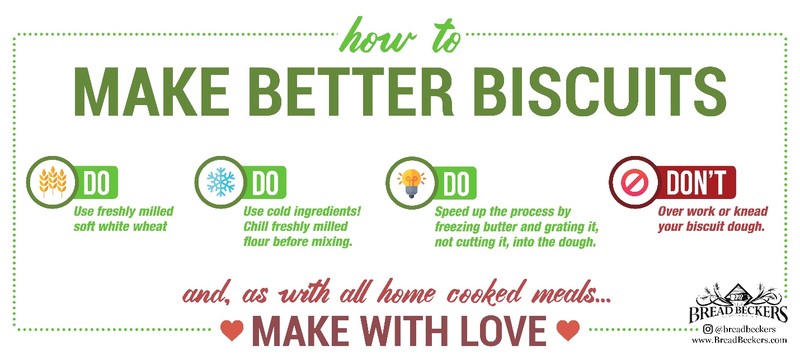 General tips:
We recommend soft white wheat for biscuit recipes. You can also use spelt for a nuttier flavor.
The #1 secret for good biscuits is cold ingredients. Freshly milled flour is warm, so make sure you let it chill out in the fridge for 5-10 minutes before making your dough.
Kitchen hack! Instead of laboring over cutting cold butter into your dough, you can freeze it and grate it into the dry ingredients.
Don't over work your biscuit dough. It does not need to be kneaded!
Let's bake!
A favorite in one of our latest classes, "Biscuits, Bagels and English Muffins", these Lemon Blueberry Sour Cream Biscuits are easy to make and quick to become a family favorite, too. They lay to rest the myth that biscuits need self-rising white flour in the mix. These biscuits are full of flavor and delicate texture. They are the perfect complement to your favorite hot beverage, special breakfast/brunch menu or even dessert. Heck, they are just plain delicious ANY time, no excuses needed.
This is a drop biscuit recipe – so only stir until the dry ingredients are combined and moistened, and don't knead.
Lemon Blueberry Sour Cream Biscuits
Makes about 12 biscuits
Here's what you'll need:
2 ½ cups soft wheat flour, chilled after milling
2 teaspoons baking powder
½ teaspoon baking soda
½ teaspoon salt
¼ cup sucanat ( or 1/8 cup each honey granules and sucanat to give a milder flavor)
½ cup (1 stick) cold or frozen, unsalted butter
1 cup fresh or frozen blueberries
¾ cup sour cream
1/3 cup buttermilk
2 teaspoon honey granules, optional for sprinkling before baking
Glaze
3/4 cup powdered honey granules
2 Tablespoons fresh lemon juice
Preheat oven to 400F. If using baking stone, place in oven to preheat.
In a large bowl, whisk together flour, baking powder, baking soda, salt and ¼ cup honey granules/sucanat mixture.
Cut cold butter into flour mixture until crumbly using a pastry blender or grate cold butter directly into flour mixture and toss to coat.
Stir in blueberries, sour cream, and buttermilk until dough comes together.
Drop dough about 2 inches apart on parchment lined or non-stick pan or directly on preheated hot baking stone. Sprinkle with honey granules.
Bake until golden brown, about 15 minutes.
While biscuits bake, prepare glaze. Powder honey granules in a blender. Add lemon juice and blend until smooth. Or whisk together powdered honey granules and lemon juice in a small bowl.
Drizzle glaze over warm biscuits. Share, and enjoy!