The Essential Home-Ground Flour Book by Sue Becker will be available in May 2016.  Click here to pre-order.
There are so many nutritious benefits to home flour milling!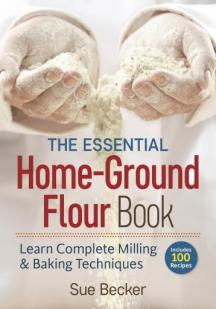 Why mill your own flour at home? For one thing, the flavor of home-milled flours is unbeatable! The huge variety of grains available today means that you can create an array of versatile flours to use in a wide range of recipes from around the world. And then there's the cost savings: home flour milling can save countless dollars on the cost of bread alone, especially for those with special dietary needs. Finally, home-milled flours are more nutritious, offering potential health benefits.
Whether you're new to milling or a seasoned pro, you're sure to be amazed and delighted by the wealth of information in this comprehensive book. Sue Becker provides easy-to-follow instructions on the milling process, from start to finish, plus 100 recipes for tasty treats such as quick breads, muffins, cookies, pastries and more! Gluten-free, dairy-free and vegan recipes round out the options, making this the definitive choice for all baking enthusiasts.
If you're intrigued by the idea of milling your own fresh home-ground flours, there's no better way to begin than with this fascinating book.
Paperback, 224 pages